Advertise in Our Annual Program Guide!
Are you looking for an exciting advertising opportunity to be seen by thousands of Salem visitors? Try a display ad in the Festival of the Dead program guide!—k—•
Festival of the Dead prints 15,000 program guides annually.
Program guides are carried in shops and attractions throughout Salem
Program guides are pre-stuffed into the shopping bags at Salem shops HEX and OMEN
Ad includes a Web link and 30 words at the top of the links page under sponsors!
This is a great way to get the word out about your product, shop, web site, or other endeavor! If you're interested in becoming a sponsor, check out the specs, rates and sample pages at the link below and then email us us to see if there's still ad space available!
Advertising Samples and Specs

Guide Book Info
• Booklet Size: 5.5in Wide by 8.5in High
• Color: Full CMYK Gloss Color
• Distribution: 15,000 Copies
(more as ads increase)
Ad Sizes and Prices
• Full Page: 4.876 in x 7.876 in, $700
• 1/2 Page Horiz.: 4.876 in x 3.9 in, $400
• 1/2 Page Vert.: 2.4 in x 7.876 in, $400
• 1/4 Page Vertical: 2.4 in x 3.9 in, $200
Ad Due Date, formats, and Billing Info
• Payment, due by Feb 10th. Art, web link, and 30 word text due by Feb 28th.
• Format: pdf or high res jpg or tiff
• Remit Payment to:
Festival of the Dead C/O HEX
246 Essex Street, Salem, MA 01970 (PayPal Also Accepted!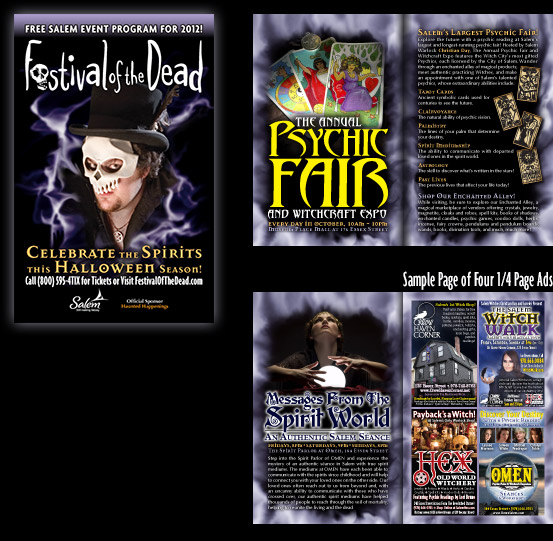 Reserve your Spot Now!
We may still have ad space available! Be sure to email us to find out!
Subscribe to The Scarlet Letter!
Get monthly updates for Festival of the Dead, HEX, OMEN, and Salem Witch Walk!