Sunday, October 29, 2023, 11:00am at the Hawthorne Hotel
Join Salem Witch
Angel Griffin
for a 3-course High Tea in grand Victorian tradition. Don your finest mourning attire and celebrate the lives of your dearly departed as you share stories of your loved ones who have passed, add photos and mementos to our Salem Witches' Book of the Dead, enjoy live music and poetry, and receive messages in the tea leaves!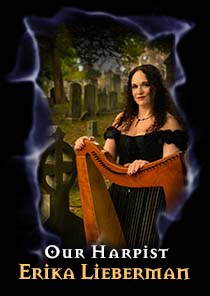 Hearken back to the lush and extravagant mourning traditions of the Victorian era, when widows wore black dresses for years and the hair of the dead was carried in cherished mourning lockets, when music filled the air with sweet sorrow as the resident bards of the long black veil recited odes to the somber beauty of Death's final waltz. This venerable ritual comes to life at the Mourning Tea in Salem.
Highlights
Enjoy a grand Victorian High tea complete with courses of traditional tea sandwiches and desserts.

Share stories, photos, and of the beloved souls who have touched your life and have helped make you who you are today in a communal Eulogy where the dead and the living meet again at a crossroads of love.

Place a photo, letter, or other memento of your loved one into our Salem Witches' Book of the Dead,

a growing, annual compendium of memories for which there are now multiple volumes filled with photographs, newspaper clippings, hair, and even suicide notes.

It is tome of love in honor of all who have passed through our lives.
Enjoy the gentle strings of a a harpist, who will help to remind us of the simpler moments of yesteryear and shift your consciousness into a place of magic.
Divine messages from the other side within the patterns of the tea leaves that decorate our cups with Angel on hand to help you to interpret that which you discover.
What to wear

Whatever your culture dictates is appropriate mourning clothing. You may choose to wear Victorian garb, gothic attire, or simply plain all black. Whatever you feel honors your loved ones is acceptable.
What to bring

At least one photo of your loved one(s). A single page, handwritten or printed out, containing whatever you would like to say about your loved one(s). If you would like a memory of your loved one to be placed into the Book, the photo and text combined should not exceed 8.5 x 11 inches. We will also have some supplies on hand for those who become inspired during the tea.
The most important ingredients of the Mourning Tea is the love that you bring for those who have passed on in your life. The memories you share will keep your departed loved ones alive in your hearts, and strengthen your connection to their spirits that still live on!
18+ Event – Ticket Sales are Final