Christian had such a blast doing this article, for which his photo was plastered across the front of the Living/Arts section of the Boston Globe, one of America's top ten newspapers!
Selling Futures: A skeptic puts her fate in the hands of Salem psychics
By Pat Washburn
The Boston Globe, October 15, 2005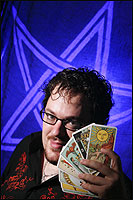 SALEM -- This time of year, a spooky gloom descends over New England, and legends of ghosts and witches draw the curious to Salem. Those who took part in the witch trials of the 1690s would be horrified to learn that their history has sparked a thriving trade in things scary and mystical, ranging from new age shops to ''museums" of pirates, witches, and ghosts.
High season for these shops and tourist attractions is October, when visitors by the carload and busload haunt the downtown, looking for everything from Halloween decorations to the answers to life's big questions, available from a variety of psychics, card readers, aura photographers, and palmists.
Nearly every store with any connection to the spiritual or metaphysical realm -- and there are many of these in Salem -- has one or more readers, usually inhabiting a back room. (Salem's Psychic Studio is an exception; while owner Diana McKanas has a few items for sale in her tastefully appointed storefront, her primary purpose is to give readings.) Sometimes the reader is the owner, selling crystals and jewelry one minute, pondering the mysteries of a client's life the next.
This fall, having celebrated a birthday ending in a zero, I found myself among their clients. I sought advice from five of the psychic readers of Salem, each of whom had a different approach and different tools. None of them had met me before, and I asked for general perspectives on my life rather than any specifics. I identified myself as a reporter, but the only other information I gave was that available from my appearance -- for instance, I wear a wedding ring, so no one predicted a hot new romance for me. None of the Salem readers tried any ''fortune teller" tricks, such as telling me I was cursed or trying to get extra money from me. Some of their insights were surprisingly similar. Each of them told me some things you might assume anyone would want to hear, and each told me one or two things that challenged my skepticism.
Christian Day
Title: Witch
Alternate career: Co-organizer of Salem's Festival of the Dead, where participants pay up to $150 to attend occult-themed entertainments
Base of operations: The Magic Parlor, 213 Essex St.
Cost of a half-hour reading: $40
Money: ''In the next six months, something crazy will happen. There'll be money problems, but you'll pull yourself out of it." (Great.)
Relationships: ''You're in a roller-coaster relationship. Your husband is very emotional, very psychic." (He's very good at guessing when I want chocolate.)
Career: ''You'd make a great editorialist." (From your lips to my editor's ears.)
Health: ''I see a lung condition, some kind of pollutant, nothing major." (I did have a lung illness eight years ago.)
Nice to hear: ''You're editor in chief material."
Freakily accurate: ''I see the loss of a father. . . . It put a wedge in a lot of things. I see depression, emptiness." (My father-in-law died in January, leaving a messy situation.)
Beverly Andersen
Title: Trance channel
Base of operations: Pyramid Books, 214 Derby St.
Cost of a half-hour reading: $40, plus $2 for a cassette tape of the experience
Money: ''Coming into a better cycle around the fall of 2006, heading into 2007." (I hate waiting, don't you?)
Relationship: ''You can trust this [marriage]. . . . There's a richness in spontaneity, and both of you forget that sometimes." Also reveals that my husband and I were married in a previous life, but perished in a Mississippi River steamboat explosion. (I do have a weird fear of submarines.)
Career: ''I see you, within three years, writing about this millennium, about the paradigm changes that are happening, kind of an Art Buchwald kind of writing." (Another vote for the editorial section!) ''You have somebody in your workplace who's just silly and eases the pressure."
Health: My husband is ''the Energizer Bunny," but I need to watch out for stress on my heart. She suggests breathing exercises, and does one with me.
Nice to hear: ''There's no flies on you. You have your own gifts of intuition. You really need to allow yourself more hope."
Freakily accurate: ''I see a major shift for you around [ages] 15 to 17, and another around 32 or 33." (My mom died when I was 15, and I began dating my husband at 32.) Predicts another one three years from now.
Diana McKanas
Title: Psychic
Alternate career: Lecturer, TV personality
Base of operations: Salem Psychic Center, 77 Wharf St.
Canine assistant: Misty, a Shih Tzu with a pink bow in her hair
Cost of a half-hour reading: $60
Money: ''Financially the outcome looks pretty nice. You will be bringing in extra income. . . . I also see cutting back spending." (Drat, I hate that last part.)
Relationship: Based on the numerology outcome of my husband's birth date, ''he sounds like a sweetheart." (He is.)
Career: ''You're comfortable, well-liked, you do a good job." (I hope so!)
Health: ''I see high blood pressure." (I'm on medication for it.)
Nice to hear: ''You're independent, strong-willed, stubborn, with a lot of leadership capabilities." (Great, great . . . stubborn? Who, me?)
Freakily accurate: ''Your husband needs to take better care of himself. . . . His shoulders hurt from pressure at work."