2005 was the year we went "too far!" Festival of the Dead is designed to be a cross-cultural exploration of life's inevitable destination. We have never wanted to run scared from any aspect of death and so, we decided to host an event investigation the minds and motives of serial killers. While we certainly found one of America's foremost experts in the subject, he was also the most controversial. The Witch City definitely wasn't ready for this, but we will say it sure was a fascinating event! And, incidentally, we have a new, really cool mayor and the old one, last we heard, had to head for Rhode Island to get another job. ;)
Criticism brews over 'killer' talk
By Steven Rosenberg
The Boston Globe, October 20, 2005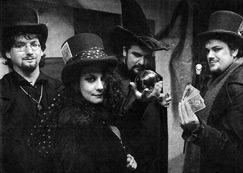 Mayor: Mass murder symposium 'an outrage'
Salem Mayor Stanley Usovicz has called tomorrow night's symposium on serial killers ''an outrage" that detracts from the monthlong festivity leading up to Halloween.
The seminar is part of the Festival of the Dead, a series of events organized by Salem witches Shawn Poirier and Christian Day. The event will be held at the Lyceum, and will be led by serial killer archivist Shane Bugbee of Chicago, who plans to display such artifacts as a rope used by Ted Bundy during a murder, and a business card once used by John Wayne Gacy. Entry is $75 per person.
Poirier and Day said serial killers have nothing to do with witchcraft, but are connected to Halloween through death. The two witches acknowledged that the subject of serial killers may be macabre. ''The bottom line is that you need to look at death from all sides," said Day.
''In no way am I glorifying these monsters," said Poirier.
But Usovicz said the event would bring nothing positive to the city. ''It's marketing at its lowest level. . . . I think it clearly goes over the edge. This is not the kind of promotion that we would welcome here. This tarnishes the image of this great city and I, for one, am absolutely outraged by it."
For the last three years, the two men have hosted their own Festival of the Dead in Salem, presenting psychic fairs, seances, and dances. The men celebrate the holiday of Samhain, marking the witches' new year, which falls on Oct. 31. ''It's the death of the old year, and it's the birth of the new year," said Poirier.
While some events -- such as allowing people to touch a human skull, and a Vampires Masquerade Ball -- have turned heads, the serial killer lecture has caused other witches to question the merits of the program.
''I just think it's really out of place. I think it's in poor taste," said Linda Munroe, a Salem witch, who owns the Crystal Moon gift shop at Pickering Wharf.
''Halloween is not about dying or serial killers of the sort," added Ana Campos, a Boston witch who works in Salem.
But another Salem witch, Sandra Power -- who teaches a ritual transformation, death, and rebirth class during the Festival of the Dead -- said there shouldn't be any taboo on witches presenting a program about serial killers. ''These killers are elevated to almost rock star status in America and that should be examined. We're getting at the psychology of death in American society," she said.
Poirier and Day said their events present a balance to Haunted Happenings, a monthlong family friendly festival promoted by Destination Salem, a nonprofit group that promotes tourism in the city. This year, Haunted Happenings held a costumed children's parade, a street festival, and will include other events, such as a ballet performance, and a children's road race.
''It's for all ages -- there's theater, storytelling, and all sorts of wonderful museums," said Carol Thistle, Destination Salem's executive director.
Thistle said she had not heard about the serial killer lecture, and declined further comment. The Festival of the Dead is not listed in Destination Salem's Haunted Happenings program.
Bugbee, who published a book with Chicago serial killer John Wayne Gacy about Gacy's life, said the purpose of the event is not to entertain but to educate.
''I'm not doing anything that isn't mainstream," said Bugbee, who pointed to TV documentaries and movies that focus on serial killers.
Brett Rhyne, an assistant professor of communications at Salem State College, agreed with Bugbee. ''The plethora of entertainment programming around serial killers, like 'Silence of the Lambs,' and the explosion of crime dramas on TV in the last few seasons has desensitized the general population to the tragedy of mass murder," said Rhyne. ''So, this festival of death, rather than being shocking and somehow offensive, fits right into the mainstream."
Bugbee has purchased the artifacts from prison guards, former public officials, and at a public auction. His presentation includes facts from the cases, and crime scene photos. He even plans to play an audio recording of a victim crying before being killed.
In addition, his wife, Amy Bugbee, plans to discuss her own family's personal tragedy. In 1966 her cousin was killed by Chicago serial killer Richard Speck.
Poirier, who will hold a four-hour seance for up to 200 people on Oct. 30, said a majority of the profits from the serial killer lecture would go toward victims' advocates and families. Meanwhile, he said he has already been in touch with a potential headliner for next year's festival: an Anglican bishop who may put on a program about guardian angels.