Festival of the Dead hosts Christian Day and Robert Murch go on a ghost hunt at the famed Danvers State Mental Hospital and host Shawn Poirier also shares his expertise for an article on America's most haunted asylum:
The lore, and lure, of Danvers State Hospital
By Michael Puffer
Danvers Herald, October 29, 2003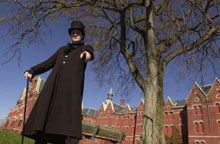 The Castle on the Hill. The Palace on the Hill. The Haunted Castle. The Witches' Castle. The Kirkbride.
The massive red-brick gothic landmark that stands atop Hathorne Hill has been given many names during the past 129 years. These names stand as evidence of the special place the building, and Danvers State Hospital, holds in the minds and mythology of the people of Danvers, the North Shore and beyond.
Many believe it to be haunted. Others are simply intrigued by its history, its unusual architecture and grand scale, with its fortress-like central "tower" section and eight branching wings.
An internet search of "Danvers State Hospital" quickly yields a long series of web sites. The hospital grounds hold a prominent place in the online pages of New England-area paranormal research groups. It is also a staple in many web sites dedicated to "urban exploration" - a type of subculture dedicated to sneaking into abandoned facilities.
The building has long been a favorite target of area youth, many of whom travel there seeking a good scare in its rotting hallways or in the deserted tunnels running underneath the hospital grounds.
In 1992, when the hospital closed, the National Guard helped by sending 80 ambulances to move the last of the patients to other facilities. Since then, the hospital has been a draw for other people, including dozens who have been arrested for trespassing on the abandoned hill.
A dozen people had been arrested as of mid-October this year.
Today, the Kirkbride stands out like a towering, red-brick beacon, regularly attracting the state's allowed maximum of 20 people to the twice-monthly, two-hour tours of the grounds.
Among the 15 or so people who visited this Tuesday could be found a mix of those people enthralled by the intricate detail of the Kirkbride and those who are drawn to it because they believe it to be haunted.
Frank and Colleen Short had traveled from New York. Frank is an avid horror movie fan and was familiarized with Danvers State through "Session 9," which was filmed at the hospital. His wife, a mental health professional, was interested in the building due to its history.
" I just think it's amazing," Frank Short said as he gazed at the Kirkbride. "It's 10 times bigger than I thought."
Most visitors on Tuesday were architecture enthusiasts, eagerly snapping pictures of the building's many right angles, its gray slate roof, the green copper roof trim, its spires and many gables.
There were also those who came up in search of ghosts, like Rose Peters, a Middleton writer working on a book on haunting.
" I find it fascinating there are so many people who claim to have experienced or seen something up here," Peters said.
Haunted
Jeralyn Levasseur's family would hear footsteps in the second story hallways of their home when nobody was upstairs. Doors would open and close, lights would flicker on and off.
Levasseur grew on the grounds of Danvers State Hospital, in a house lent to her father, hospital administrator Gerald Richards.
Now 52, Levasseur clearly remembers one day in her youth when her sister and a brother were playing upstairs in the attic and saw an apparition of an older woman angrily scowling at them. They were too scared to move until their mother ordered them to come down, Levassuer said.
Levasseur was in high school when her bedcovers were pulled completely off her bed. Nobody was in the room. She was petrified, but said she always had the feeling no real harm would come to her.
Today, Levasseur works as an assistant to the chief nurse executive at Spaulding Rehabilitation Hospital, a career she said was inspired by her father's teachings about the importance of caring for the mentally ill and sick, as well as to the experiences she had growing up at the mental hospital.
While Levassuer generally had a good experience there, she admitted there were some unsavory practices that took place - most often the result of misguided efforts to treat patients, such as primitive electric shock therapy and hydrotherapy.
" If you think back to the beginnings of medical science and the things done to people, not because they thought they were doing bad, but because they were trying to do right, you have to wonder, did people think they were being tortured?" Levasseur said. She believes it is the tortured spirits that knew Danvers State as their home that linger on the grounds.
Historical reasons
Certainly the history of the hospital grounds lends itself to haunting lore. Jonathan Hathorne, who is perhaps the most fanatical judge of the witchcraft delusions that saw 19 innocents killed in the 17th century, is said to have lived in a house built by his father in 1646 on the spot where the Kirkbride was later constructed.
The Kirkbride and Danvers State Hospital started as an enlightened attempt to bring patients out of their delusions through beautiful surroundings, complete with plenty of fresh air and sunshine. By the early 1900s, this enlightened ideal was being subverted by overcrowding and under-funding, a problem that grew steadily worse as the century progressed, according to Michael Ramseur, a technical adviser to "Session 9" and perhaps the foremost expert on the site's history.
A social worker by trade who works currently at Balpate Hospital, Ramseur's interest dates back to a chance visit in 1986, when he delivered a patient from a halfway house in Haverhill. Enthralled with the building's foreboding architecture, Ramseur began a 17-year quest to unravel the history of the place, through careful study of hospital records and interviews with former patients and staff. He shortly expects to publish a 300 page online book on the subject.
The hospital was designed for a maximum of 600 patients, Ramseur said. In November 1945, one evening shift of nine people was expected to care for more than 2,300 patients, he said.
Faced with overcrowding and understaffing, hospital staff depended on the primitive, and often brutal, psychiatric treatments of the day, including early-style shock treatments, hydrotherapy and lobotomies, to control the burgeoning population, Ramseur said.
It was the pain born of these treatments and the decay that accompanied overcrowding and tight budgets that caused the haunting that exists today, agreed all the believers in haunting who were interviewed for this article by The Herald.
There are more than a few stories from people who believe Danvers State Hospital to be haunted, and plenty of anecdotes from those who believe they felt or heard something go bump in the night.
It is "one of the crown jewels in the paranormal history of Massachusetts," said Chris Balzano, of the Massachusetts Paranormal Crossroads, one of the groups that lists Danvers as haunted. Balzano said there isn't much information on spiritual activity on the site because the police and the private security agency hired by the state keep it well locked down.
The site is listed as haunted on the web-pages of several paranormal research groups. One of these, the Rhode Island Paranormal Research group, claims to have done a study of the site in 1997, but refused to share their findings for an article.
Current curiosity
The staff of the Massachusetts Department of Capital Asset Management can well attest to the interest of lovers of ghost stories and spirit seekers. In the past year alone the agency has received more than a dozen requests by people wishing to perform séances there, DCAM spokesperson Kevin Flanagan said in a recent interview. The requests were turned down, as DCAM hopes to discourage anything that would fan the interest of people in the place, leading to more trespassers sneaking in and possibly getting hurt in the failing floors of the buildings.
" It has always been a problem," Flanagan said.
Salem resident Bob Murch made one of the dozen requests to conduct a séance at the hospital site. A financial researcher for Fidelity Investments by day, Murch invented and sells a Ouija board, called Cryptique, decorated with artwork from Salem-area grave-sites. He also helped organize the Festival of the Dead, a semi-commercial attempt to promote better understanding of the afterlife as seen by the Salem community of witches, mediums and other paranormal-minded people.
" I think the state has done its own part to create the dark, secret or spooky part of Danvers State by saying it's off limits," Murch said. "They say it's off limits, now everyone wants to go there."
Like a good number of area youth, Murch, now age 29, had visited the hospital grounds to drink alcohol with friends while in high school in Peabody. Even then, the place left an impression.
" It was spooky as hell," Murch said. "The whole thing is creepy really, just the thought of the insane asylum."
Murch is of the opinion that the hospital is haunted, if not in the traditional sense, then by the negative energies given off by thousands of mentally ill who suffered there.
" I believe whether enough good things or bad things happen in a place - I don't know whether the feelings get trapped in the walls or the building - but they just stick there," Murch said. "There have certainly been enough bad things that happened there that it will stick around for awhile."
This emotional energy is felt by visitors, Murch said, and the effects are magnified by the site's imposing architecture.
" It's a very dark place; you feel it," Murch said. "With the huge, tall, buildings and everything being oversized, you feel very insignificant there."
Murch's understanding of the haunting of Danvers State is shared to a degree by practicing Salem witches Sean Poirier and Christian Day, co-hosts of the Festival of the Dead.
" Danvers State is definitely an epicenter of haunting energy, largely due to the confusion of the people who were there when they died, which is why there is such a draw" Day said during a recent interview.
Day claims his talents lay in an innate natural ability to sense and control spirits. To him and Poirier, witchcraft is not a religion, but more of a honed talent.
A decade ago, just before the last hospital building closed, Day visited the grounds with some friends.
" I just felt a very intense foreboding; you could feel there was a lot of pain there," Day said. "You really felt the pain and confusion of the people who had been there."
Poirier said he'd visited friends at the asylum before its closure. During his visits he felt the energy of the place, though whether it was haunted by actual spirits or just an emotional charge of energy, he couldn't say.
While Poirier and Day concentrate on the spiritual and psychic aspects of the paranormal, their friend and fellow Salem businessperson Mollie Stewart concentrates on scientific proof.
Stewart was trained as a para-psychologist and licensed as a "ghost hunter" by the International Ghost Hunters Society. In June she opened a museum of the supernatural in Salem, from which she also leads tours of haunted areas.
Her profession and passion being what it is, Stewart was drawn to Danvers State. In early October Stewart attended one of the regular site visits the state allows. Stewart said she managed to photograph a spirit "orb" by a stand of trees using high speed film during her visit.
Since its closure, the hospital's reputation as a haunting ground has undeniably grown. In the way the state guards it against intruders, the publicity it has achieved and the native draw of the architecture, Danvers State and the Kirkbride have moved beyond the realm of a haunted place and become local legend, Poirier said.
He described it as "deified."
"There is definitely some energy up there," Poirier said. "What people think about, we often make happen."